Our Goal: To Beautify and Protect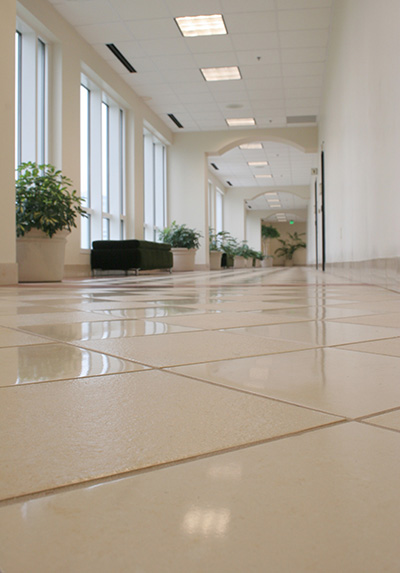 SilTanium Corporation began in 2002 with the development of the SilTanium line of permanent protective barriers for at-risk floors and walls. Our goal was – and is – to provide and protect market value through the development, sale and installation of unique products to preserve and safeguard masonry substrates. Our coatings are more durable than anything on the market. SilTanium® creates a virtual glass film so protected surfaces are chemical-resistant and impervious to mold. Because the coating is UV-stable, surfaces won't yellow with exposure to sun.
We offer solutions that beautify your floors and protect them to make cleaning a breeze. Our line of proprietary products and services for man-made tile and grout, natural stone, terrazzo, concrete and VCT will cover all your hard-surface flooring needs. We believe there is no perfect coating, only a perfect specification. This is why we continually develop new products that add value options for each customer need.
Our line of affordable solutions can enhance and fortify any masonry floor or wall, creating an impermeable surface that is attractive and easily maintained. As developer and distributor of this line of demonstrably superior products and processes, SilTanium Corporation exercises total control over their integrity and their application. Our service before and after the sale is unrivaled in the industry. Working with our Alliance Partners, we assign an expert to monitor each project from the first visit through completion and post-service.
Our many prestigious clients include major military bases and universities, as well as supermarket chains for which we have enhanced and protected more than a thousand restrooms. Whatever the size of the project, our business model eliminates multiple layers of wholesalers, resellers and retailers – and that saves you both money and time.
Medical, military, educational, government, commercial, industrial and hospitality clients all trust SilTanium Corporation to turn their problem floors into impressive floors. This turnkey approach keeps our products and services affordable, and has helped us build a base of high-profile clients throughout the Eastern Seaboard.