Diamond Floor Enhancement
Give Concrete or Terrazzo Shine and Durability
With our innovative Diamond Floor Enhancement System, SilTanium Corporation uses its vast knowledge of concrete flooring and the floor-care industry to bring to our customers durable, economical solutions that ensure long-lasting, beautiful floors. This three-phase program will keep your floors consistently clean and glossy throughout our partnership.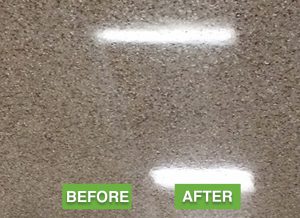 The turnkey Diamond Floor Enhancement System includes machinery, materials, labor and supervision needed to install the system to the entire terrazzo or concrete floor. The process combines specialty chemicals with a series of progressively finer grit diamonds that profile and hone the floor surface to an exceptional shine. The floor becomes dust-free, light-reflective and easier to maintain and clean — all while increasing the coefficient of friction to greatly reduce the chance of slips and falls.
Concrete Floor Maintenance Training and Monitoring Program
We designed this program to train onsite maintenance personnel in the proper use of the machinery, chemicals, materials and processes needed to maintain the floor. The program includes the services of a qualified SilTanium senior field technician for one day's training.
Concrete Floor Maintenance Materials Availability
SilTanium Corporation makes available for purchase everything necessary to ensure that the customer has a source of materials needed to maintain the floor and protect the investment. This also allows SilTanium Corporation to assist the customer in monitoring maintenance issues and correcting problems to avoid costly rejuvenation.
Through these programs, SilTanium Corporation can ensure that the floor remains consistent throughout the partnership.