Put an End to Ugly Grout Lines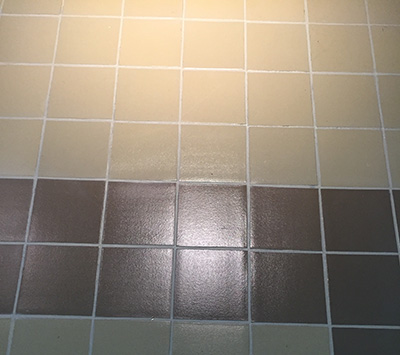 ColorBond Supreme delivers all the elements of ColorBond's grout-color enhancement while also providing SilTanium Supreme's clear coat protection to improve cleanability. High-moisture environments are no problem, as ColorBond Supreme's exceptional coefficient of friction increases safety. ColorBond Supreme is dry to walk on in minutes and opens to traffic in less than one hour.
Not only great for your custodial staff, ColorBond Supreme is also great for the environment and easy rejuvenation if needed. You can use ColorBond Supreme both indoors and out, as UV will not reduce its performance.
This amazing hybrid technology offers the synergy of penetrating and film-forming technology all in one. The bond is unsurpassed without the need for adhesion promoters and the clear coating is solvent-resistant, even against acetone.
ColorBond Supreme has a matte or low-gloss appearance as installed. But if you want the floor to shine, ColorBond Supreme can be burnished and glossed.