6/21/2018
Major International Retailer has continual issues from spills of acidic foods in the grocery aisles. When this happens, a call is made to Service Channel to bring in a contractor for the repair. For small repairs, this is time-consuming and expensive.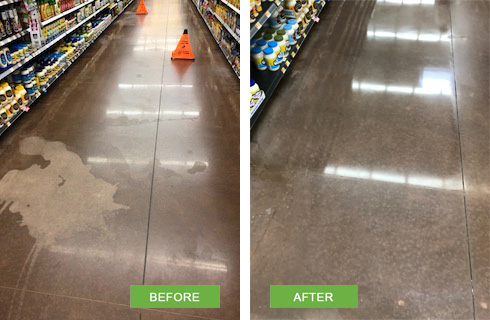 When SilTanium got the call, we were on-site in 24 hours and the repair was complete a couple of hours later, allowing retail trade to continue. In the photo below, note the wheel marks where a shopping cart moved the liquid beyond the spill area. With the job now complete, the floor looks like new and has more protection than before.
If the cleanup occurs quickly, SentryGuard is a barrier to future staining, and coefficient of friction and gloss are significantly improved. Daily cleaning with auto scrubbers will allow this DFE surface to shine on for years to come.
To learn more about DFE and SentryGuard for concrete, contact your sales and service representative. If you do not yet have a representative, please call 770.387.2728 or email [email protected].