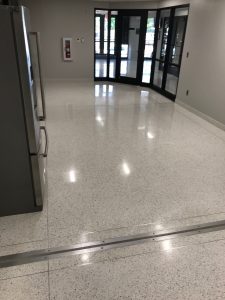 7/20/2018
In an effort to promote sustainability and reduce maintenance costs, Cobb County Water Department chose to have its terrazzo halls, breakroom, restroom and offices polished with the SilTanium DFE system. The result is a low-maintenance substrate with reflectivity that maximizes lighting efficiency. These improvements, coupled with a higher coefficient of friction, translate to a well-rewarded project cost.
The initial installation had repair patches that did not blend in well. Also, there were circular grinder marks around edges from hand-grinder honing and in the middle of the floor from traditional walk-behind grinders. The SilTanium DFE Process made the vast majority of these issues simply disappear.
We performed all work between 7 a.m. and 5 p.m. with very little disruption to daily operations. The new system was in place in three days.
To learn more about DFE and SentryGuard for concrete, contact your sales and service representative. If you do not yet have a representative, please call 770.387.2728 or email [email protected].