11/8/2018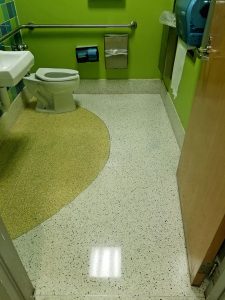 The DFE Process (Diamond Floor Enhancement), was completed in the main lobby restrooms of the Children's Hospital in downtown Atlanta. Two restrooms had the floor finish removed, baseboard caulk replaced with a grout caulk system, and were polished and finished with SentryGuard and diamond burnishing.
As the evaluation takes place, the hospital will find areas are easier to clean and will not need to be closed for coating repair as with traditional floor finish systems.
If you need to reduce labor cost and eliminate the maintenance process of using floor finish, SilTanium is ready to bring DFE to you.
To learn more about DFE and SentryGuard for terrazzo, contact your sales and service representative. If you do not yet have a representative, please call 770.387.2728 or email [email protected].