11/22/2018
The Harris Teeter Grocery store chain was recently acquired by Kroger. Many internal changes have occurred since then but not the quality of service, excellent products or their commitment to clean beautiful restroom floors.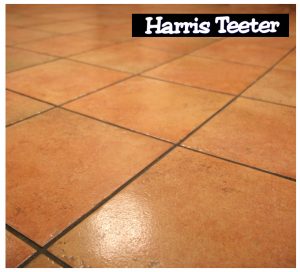 SilTanium has enjoyed a relationship with Harris Teeter for over thirteen years. In that time, all new stores and many existing have received the SilTanium TG Glass Coating on their restroom tile and grout. These coatings have lasted well beyond the three-year warranty. Just this year, a store was remodeled and the decade plus old coating was re-applied. Now that is a durable coating. In fact, there is no other coating in the world that will last longer!
2018 has brought many more stores on line with the GrouTanium system which is the SilTanium TG clear coat over the ColorBond color sealer in the grout joints.
We thank our Legacy Customers like Harris Teeter for their faith in us and the years of support they have given. The next time you want fresh foods, beautifully displayed and ready for your kitchen, visit your local Harris Teeter and take a moment to look at their restroom floors. At Harris Teeter, every detail matters.