11/10/2017
After years of using a polishing system on terrazzo, the University of Rochester gave RD Weis a chance to prove its system. The company employed the SilTanium DFE (Diamond Floor Enhancement) system with a stunning outcome.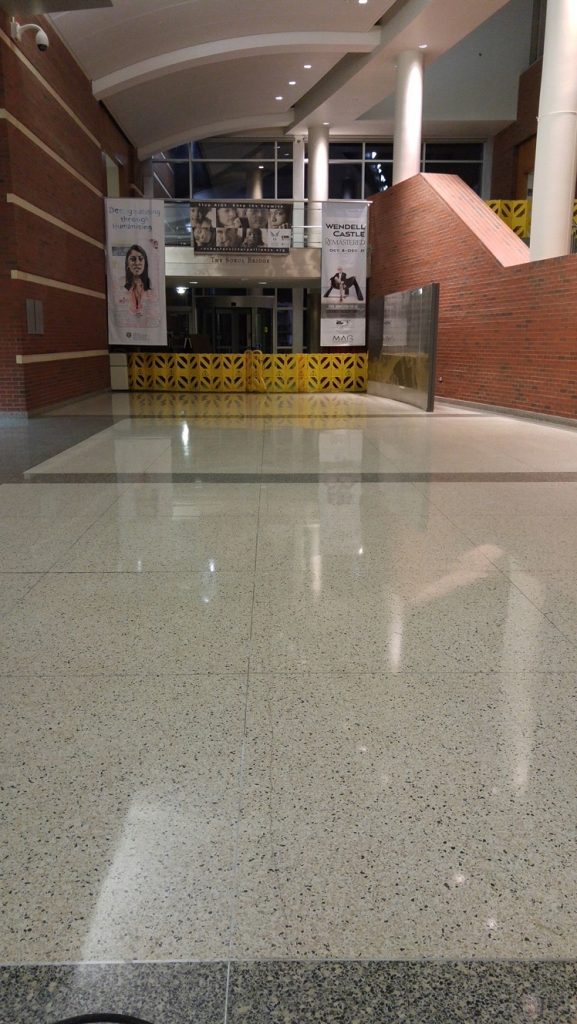 Most terrazzo-polishing projects specify an 800-grit polish level, which creates the best balance between aesthetic outcome and long-term maintenance. Simple foot traffic will cause a polishing or abrasive effect. That effect generally results in a surface smoothness of an 800-grit diamond. Therefore, the highest shine with the lowest maintenance due to foot traffic is an 800-grit polish.
The University of Rochester decided that taking the floor to 3,000-grit would deliver the higher level of clarity desired. Generally, it takes more periodic maintenance to keep the floor at this level. However, to minimize the cost of additional maintenance associated with a higher polish level, the RD Weis technicians applied SentryGuard, which is so hard it requires diamond impregnated pads to effectively burnish it therefore , reducing foot traffic abrasion to the polished terrazzo. This treatment provides long-lasting life to the floor. It also greatly improves the coefficient of friction, which reduces the potential for slip-fall accidents. In addition, SentryGuard creates a stain barrier that makes daily cleaning a breeze.
If your terrazzo floor polish yielded unacceptable results, or if you are using floor finish to make it shine, we have a new process that will take you out of those cycles and reduce your costs. Just specify DFE (Diamond Floor Enhancement) by SilTanium and hire a quality Alliance Partner such as RD Weis.
To learn more about the advantages of the Diamond Floor Enhancement system, contact your SilTanium Corporation sales and service representative. If you do not yet have a representative, please call 770.387.2728 or email [email protected].